Video Poker Strategy Guide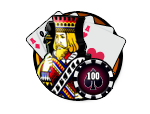 Video poker is a modified version of traditional five-draw table poker. A firm favourite with South African players, it can be found at all the main online casinos. First invented in the late 1970s, video poker is fun, exciting and easy to learn and has the potential of excellent payouts. Best of all, it's one of the few casino games where you can get better and improve your results with practice and a few solid strategies.
Where most online casino games rely on chance, video poker lets you improve your own odds through holding or discarding hands. A combination of experience, luck and good playing technique can substantially increase your chances of getting a great payout as well as enhancing your overall enjoyment of the game.
How it works
When you play video poker you will be shown a screen with five cards. You choose which cards to keep and which to discard by tapping on the screen. Once you've decided you then hit the draw button. The cards you discarded will be replaced. If you get certain combinations of cards you win.
Like poker played at bricks and mortar casinos, video poker has a number of different variations and the most effective techniques will vary depending on the version you're playing.
Jacks or better strategy
Jacks or Better is the most common version of video poker that you'll find at South African online casinos. This game will pay out any hand that has a pair of jacks or better (hence the name!). Before you start playing Jacks or Better make sure you study the payout tables so you know what to keep and what to discard for the maximum payout.
When playing this particular version of video poker, you will want to hang on to:
A royal flush
A straight flush
Four of a kind
A full house
Three of a kind
Two pair
If you get any of these combinations in your hand, a good strategy is to hold those and discard the others. Here are a few examples of potential hands you might be dealt in Jacks or Better and the best strategy to take:
Example 1:
Nine of clubs
Eight of clubs
Four of diamonds
Five of spades
Jack of hearts
Because you're playing Jacks or Better and you know that you need a minimum of two jacks to win, the best strategy here is to hold on to the jack and discard the rest, hoping to get another jack or higher.
Example 2:
Queen of clubs
Seven of diamonds
Jack of spades
Ace of spades
Two of clubs
In this example you have three high cards (Jack, Queen and Ace) but you don't want to keep all three because two are of the same suit. This means they can potentially turn into a flush or a royal flush and net you the jackpot. In this case you would want to hold the Jack and the Ace and discard the rest.
Example 3:
Six of diamonds
Eight of spades
Six of spades
Six of hearts
Two of diamonds
In this hand you don't have any high cards, but you do have three of a kind. This is enough to receive a payout without doing anything further but if you hold the three sixes and draw again for the rest you have the possibility of being dealt another six and getting four of a kind.
Improving your video poker strategy takes practice but it is well worth the effort. These strategies will only work on Jacks or Better, trying to use this strategy for other variations won't work. Here are some of the other video poker variations you might encounter and some suggested ideas to help you get the best from them.
Deuces Wild
This variation of video poker lets you substitute a two for any other card in the deck to make up the highest possible hand, giving you plenty of intriguing options and chances to win a good payout. Learn what the best paying hands are if you're playing deuces wild so you can make the best use of the wild card twos you draw.
As an example, if you are dealt:
Two of clubs
Seven of hearts
Eight of hearts
Nine of hearts
Queen of hearts
In this situation you can choose to keep the pat flush or opt for the four card to a straight flush (three consecutive cards that start with number five or above). Because the open-ended straight flush has a potentially higher payout, you will want to break the pat flush and draw for the open-ended straight flush instead.
Double Bonus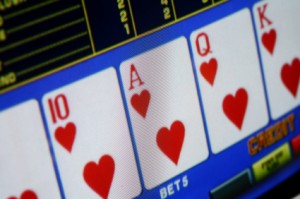 Double bonus video poker gives you the option to take your money at the end of a winning game, or to double down. Choosing double down gives you the opportunity to double your payout.
If you choose to double down you will be presented with five cards. One will be face up and the other four will be face down. You will be asked to pick a card from the face down ones. If it's higher than the face up card, you double your money, if it's lower you lose the whole lot.
When you're playing Double Bonus, if you want to make more than 100% of your original bet you will need to bet the maximum bet of five coins per hand so you become eligible for a bonus for royal flushes. Double bonus is most suited to more experienced players who have already got to grips with strategy through less complex video poker variations.
Jokers Wild
This variation of video poker lets you keep the joker in the deck and use it to substitute for any other hand. While a fun and popular variation of video poker, the expected payout on Joker's Wild is lower than for most other video poker versions at around 99% of your total amount wagered.
Different casinos vary in their payouts when it comes to Jokers Wild which means that there isn't really one strategy overall that will give you the best outcome. Check the individual payout tables at your casino and as a rule try to use the joker for higher payout hands so you have a better chance of hitting the jackpot or getting a larger payout.
Final Words on Video Poker Strategy
With so many different variations, you'll never get bored playing video poker! Because strategy and skill level is so important it's a really good idea to spend some time practicing and refining your strategy before you jump in and start playing for real money.